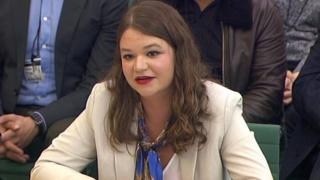 Misuse of data was "rife" among the businesses and campaigns of Leave.EU chairman and ex-UKIP donor Arron Banks, a former Cambridge Analytica( CA) employee has told MPs.
Brittany Kaiser mentioned Mr Banks asked the consultancy firm for a joint strategy for Leave.EU, UKIP and Eldon Insurance.
Ms Kaiser mentioned CA "took receipt" of UKIP's membership data as part of this.
Leave.EU refutes Ms Kaiser's statements and CA said it has never received data regarding any Arron Banks company.
Ms Kaiser was giving evidence to the House of Commons' digital, culture, media and sport committee, which is conducting an inquiry into fake news.