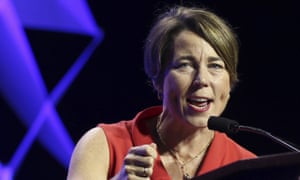 Maura Healey, the Massachusetts attorney general, has sued the manufacturer of OxyContin over the deadly opioid crisis. Photo: Elise Amendola/ AP
Purdue, along with some other analgesic makers and medication distributors, is currently facing more than 300 suits from city and district authorities across the country. The lawsuits ought to have corralled into one multi-district example in a federal tribunal in Ohio. The magistrate in that case has been pushing for a huge, quick settlement to compensate victims and assist in what the government has admitted is a public health crisis, in accordance with the rules the so-called " Big Tobacco settlement" happened against cigarette corporations in the 1990 s. But some experts are calling for the example to go to trial in order to oblige the pharmaceutical companies to produce more evidence in the breakthrough process.
The company is also being sued separately by more than 15 nations, but this is the first that names individual members of the Sackler family, who are currently or were formerly on the board of directors of Purdue.
The Sacklers being sued are: Theresa and Beverly, the widows of the brothers Mortimer and Raymond Sackler who constructed the company into the narcotics giant it is today; Ilene, Kathe and Mortimer David Alfons Sackler, three of Mortimer's infants; Jonathan and Richard Sackler, Raymond's two sons; and David Sackler, Raymond's grandson. These family members and a number of their siblings and children are collectively worth an estimated $13 bn, according to Forbes, with the vast bulk of the fortune is coming from sales of OxyContin. Feuding family members have mostly declined to talk about the opioids crisis and avoid discussing their links to it.
Purdue agreed to pay $19.5 m in 2007, but did not admit wrongdoing, to settle lawsuits with 26 states- including Massachusetts- and the District of Columbia after being accused of aggressively marketing OxyContin to physicians while downplaying the risk of addiction.
The Massachusetts lawsuit, which was filed in the Suffolk superior court, alleges that Purdue's leadership encouraged the company's" deadly misconduct" while lining their pockets. The sale of more than 70 m doses of prescription opioids in the government over the last decade brought in more than $500 m for the company, Healey says.
" It was Purdue's executives who led and directed this illegal business framework, leading to addiction and deception to enrich a few while leaving a track of desolation and demolition in its wake ," she said.